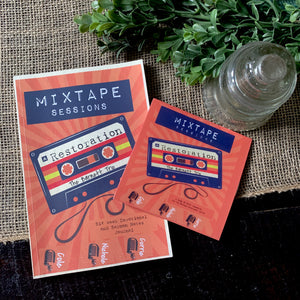 Mix Tape Sessions  Side A "Restoration"  is so much more than just inspirational music.  It's a tool that can be used to apply these songs to your life in a deep way and give you a dialogue for reaching out to those around you. 
This product is two pieces in one:
The 6 song EP with  Testimonies  and Dedications (in True Mixtape form) by each of the Trio Members (songs include: Standing on the Promises, Beautiful Messes, Clean, Power in the Name of Jesus, Say Amen, O Come to the Altar)

The Devotional Companion can be used over the course of 6 weeks.  Each week showing you a case study of an individuals life who is in need of restoration.  You'll be challenged to use the song and Bible verses to encourage them through their journey. 
The Devotional companion is something new so we want to give some examples of how it can be used but there's really no wrong or right way.  :)
Through this project, we not only want to share songs of encouragement but also leave you with a tool to help apply these  promises to your life and enrich your confidence to reach the people in your community.
How this six week study works for individual use
Launch Day: Listen to the song of the week, read the case study and pre-read the questions for the case. Jot down some ideas of how you think you should answer.
Day 1- 5: Study out the scriptures listed at the beginning of each week's section using the soap model charts provided. (there are 5 charts, one for each verse and one extra for you to add your own if you would like.)
Day 6: On this day you'll go back to give your final answers to the questions for the case study. Evaluate how your initial answers may have changed.
Here is how the six week study works for a small group with individual use.
Listen to the song of the week and read the launch story for the following week to set the stage for your next whole group meeting.
Day 1- 6: Members will work on their five scriptures for the week and add one on their own that may help the person from the case Study.
On your next small group meeting, go over the scriptures together and discuss how you would answer the case study questions .
(This works great for Small Groups on Facebook or Zoom meetings
Here's how this six week  study works for small groups only.
At The beginning of class read the launch story  of the week and listen the song that coordinates.
Split the class into 5 groups. Each group will dig into one of the scriptures that the leader assigns using the SOAP model.
Come back together as each group presents their analysis of the scripture and receives feedback.
Leader presents case study questions as the whole group answers the questions in open discussion format .
If you would like to complete these devotions in community be watching on the Barnett Trio's Facebook page for information on how to join our Mixtape Sessions Devotion Group

For your convenience, our songs can also be streamed  or downloaded on any of the major streaming services such as: iTunes, Spotify, Youtube and Amazon Music.

Want to have an 80's themed concert with the Barnett Trio at your church? In addition to the worship concerts we already love doing, we are also booking 80's themed concert nights to go with this project as a fun way  to reach put to your communities. For more information Contact Cole Barnett: 812- 821-7710

If you're enjoying this tool, remember to tag us in pictures and posts made to Facebook and Instagram.(The Barnett Trio) We love seeing how God is working in your lives.